The world of beauty business is full of opportunities and one that is growing exponentially. The lash and brow industry alone has been steadily growing over the last two decades with eyelash and brow services being huge mainstays in salon menus. To own a successful brand in the lash and brow industry is a remarkable opportunity, however to keep a brand growing for over 2 decades requires a lot of resilience, innovation, hard work and a few stars aligning every now and then helps you be up with the front runners.
Australia born and globally loved brand Elleebana is one of those such brands, 26 years in business and going stronger than ever before is something that is virtually unheard of. This longevity in the lash industry is a testament to the dedication of Otto Mitter and his team at Elleebana global headquarters as they pave the way for lovers of all things lash lift and lamination in over 60 countries around the world.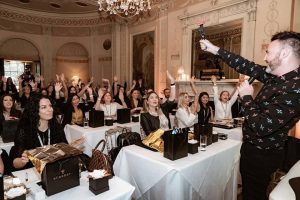 Elleebana has become synonymous with developing the world's fastest lash lift system and creating gorgeous campaigns showcasing the magic of how Elleebana lash lift and lamination can unleash your natural beauty and eyelashes. Eyelash extensions are still up there with a girls favourite glam go to, but lash lifting has made its mark and it's not going away any time soon. In fact Lash Lift has been here longer than eyelash extensions and now it's arguably even more popular due to the time saving factor for the therapist and client, as well as the no maintenance lash enhancement which is so appealing to many in a world that is only becoming more demanding with time constraints, the world is getting fast out there and the beauty industry is moving to accommodate a busy lifestyle.
So how does one keep lifting for 26 years in the industry and keep up with the leaders? Otto Mitter tells us his insights into how he keeps focused on innovation and not sweating about the small stuff.
"In the last decade we have seen lash lift grow rapidly in the beauty industry, during my time a lot of lash brands have come and gone, only a select few have been able to keep the momentum going, but with the growth of more opportunists, entrepreneurs and OEM manufacturers we have seen an explosion of lash lift brands on the market especially in the last 5 years. There used to be about 10 – 20 brands, but now I could mention about 50 – 60 brands and this number continues to climb. It's that age old story of business, if you see someone doing well with it, you think, why can't I do that as well? It's true, you don't have to be the first at anything anymore to have a successful business, I've said this so many times. Sure being the first can give you an advantage, but if you do something well you still stand a chance at creating a hugely successful business, but it's not as easy as some people may think.
Now that there is more competition it is even harder than ever to really break through, because many brands have established a lot of trust in the market with their formulas and also their support and education programs. When choosing a brand that is right for you, you want more than just quality products, you want the whole package and to be part of a community that supports you. That is what Elleebana has done so well, we have award winning education and products that are trusted by experts in over 60 countries, and that's all well and good, but we also have an exceptional support network and community, these elements have been a magical part of the chemistry with Elleebana.
"2021 is the year the Earth changed, we have had to adapt to a new way of doing things and the beauty industry has been deeply touched by this. Even though salons pretty much closed over night during the start of the pandemic, it reopened with a force like we've never seen before, we all adapted our protocols and clients came back in droves craving that special moment of time just for them. A moment to feel loved and looked after, the benefits of self care have never been so significant and important than what they are now. This is one of the most rewarding things about the beauty industry, when people are feeling down you can boost them up again to new heights.
The year ahead for Elleebana will be one of our most productive in the history of the brand, new innovations, product expansion, education offerings, competitions and face to face events are a big part of the 2022 package that is being unleashed. Follow the Elleebana journey on Instagram to see all the new developments, watch this space.