When I was younger, I had dreams of becoming a tattoo artist. I was fascinated by tattoos and body art and still am to this day (which explains all my tattoos). I have always had a creative flare and thrived in Art and Design classes in school. I still often draw and paint artwork that is displayed around my home.
I also loved Gymnastics and Tumbling when I was younger and spent most of my afternoons after school at the gymnasium practicing and watching the older gymnasts perform stunts and flips. I was so keen on this sport that I asked for a job at the gymnasium. I was given the position as a junior gymnast instructor and worked alongside my gymnast coaches that I looked up to. I was only 13 years old, and I remember my friends thinking how cool I was for having a job and in something that I loved doing! Not to mention all the free mentoring and extra classes I got to do.
Watching my mother study to become a qualified beauty therapist and seeing her passion to learn and grow within the beauty industry inspired my passion for all things to do with the industry. This then pushed me to delve into the world of makeup. While in High School I studied part time at TAFE completing a certificate in retail, skincare, and makeup. This was only a steppingstone for what was bound to be the best decision I have made in my life thus far.
After completing my certification, I started a little side hustle doing make up artistry and brow tinting while working part time at an Ice Creamery and an Italian restaurant. My only clients at the time were friends, friends of friends and family. I thoroughly enjoyed it at the time and spent most of my money on makeup.
I began losing interest in the makeup aspect and grew tired of the casual shifts I had at my part time jobs and set out to find a full-time job. This moved me into my next journey, and I completed a business certificate while working for a building approval company. I have never felt so out of place as I did in this job and quickly learnt that it was not for me. After completing my business certificate, I searched for another job and was offered a position as a Student Services and Enrolment Officer at a Registered Training Academy on the Gold Coast. The aspect I enjoyed most about this role was interacting with the students and offering them support.
My partner Caleb and I eventually moved into our own place together and now live with our two cheeky Dachshunds, Obi and Maz. These two little darlings bring us so much love and joy. Caleb has always been so supportive and motivates me daily to follow ALL my dreams no matter how wild they are. (Emphasis on the ALL as I continuously have new goals and dreams to accomplish each week)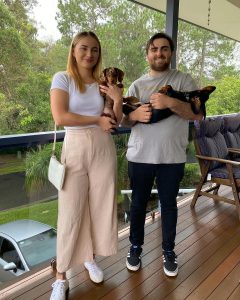 As time passed, I still pondered where I would end up and knew it would either be in beauty or tattooing so I ventured out to search for a job that would bring me as much joy as these two things would.
One day I stumbled across an advertisement for an Administration Assistant for Ex-Import which gave me a flashback to my earlier days while completing my beauty certificate. I had remembered using Belmacil and Elleebana products in my course. I thought to myself, this could be my way back into beauty again! Remember when I mentioned the best decision I have made in my life thus far? Well, read on because it's about to happen 😉
You have probably guessed by now that I applied and got the job… and on my birthday! I consider it the best birthday present ever and I will remember the moment I received the call that I got the job, forever; I could not wipe the smile off my face.
I began working in the Administration and Technical Support Department, I feel this was one of the most important stages of my journey with Elleebana as it established a foundation of broad knowledge for the products, procedures within the company, customer service, providing meticulous technical support and connecting with students and stylists over the phone and social media.
Otto and Zoe have been more than just mentors to me, they are family and have truly brought out the best in me and witnessing the amazing impact they made in the lash and brow community everyday inevitably sparked my desire to share my passion for the brand, products, and services to inspire and educate beauty professionals.
Following my passion allowed my confidence to soar, and this led me to create BIG dreams for myself and do things completely out of my comfort zone. I went on to complete every Elleebana course and started taking clients again performing lash and brow treatments. I devoted many hours in the Elleebana salon and my home salon after hours to regain my skills and learn some new ones. I was like a sponge and absorbed every bit of information that I could from all the inspiring educators and artists around me.
Fast forward a year later in this amazing workplace, a position opened for a QLD Lash Extensions Educator. I was so thrilled to put forward my interest as I knew this was my calling, this is where I wanted to focus all my energy on for everything to fall into place.
Otto and Zoe saw the love and passion I had for Elleebana and for education and gave me the position as an Elleebana Educator. Finally, I could spread my wings as an educator and feel the satisfaction of helping beauty professionals in their own educational path – It is truly the best feeling in the world when you can connect with likeminded people and help them propel into their own careers.
I have since completed multiple lash and brow courses and conferences and am now delivering all Elleebana face to face classes and online education as an Australian Elleebana Master Educator – Sound's fancy doesn't it!!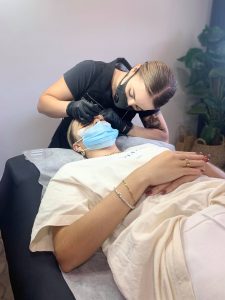 Reflecting on my journey thus far has given me a huge insight into my progression and development both personally and professionally as an individual, though my Elleebana journey has only just begun, and I cannot wait to see what the future holds for me within this company.
I am profoundly grateful for all the positive influencers I am surrounded by and every opportunity that has led me to where I am today, doing what I love and representing Elleebana; the brand that I have loved right through from my beauty education till today, 2 years as an educator. My passion and love for the brand grows more and more each day and I pinch myself every day because I am truly living my dream all thanks to my Elleebana family!