Rewinding back a few years/decades now ….
All through my school years all I wanted to be was a professional netballer, I played netball all through my primary and high school years and luckily enough played in some really great state squads which could lead me to my dream of playing netball for Australia one day… this was a dream of mine that unfortunately did not eventuate. But what I have taken away from my netball passion is my competitive edge that has always serviced me well to want to succeed in life and keep pursuing goals and dreams as they fall.
I was also that girl who experimented with every new beauty trend possible and I was one of those who wore the darkest longest lashes (lash education back then was scarce), the boldest darkest brows and the most orange tan and makeup you could think of. Whilst I still now cringe at the thought of this very look for myself, I know now that this was my evolution and we all need our own individual path to follow to progress through life at our own pace and on our own journey.
As my mum still tells me to this day, there is not one thing I didn't want to try or want to succeed in. I have always had a natural competitive nature and always wanted to not only improve myself in either a skill or a personal development but I have always wanted to help other succeed in whatever their chosen field was.
My motive in life is and has always been to keep pursuing your goals even if those goals change; it's all about self-development. I am a huge believer that even if you get thrown a mountain top full of multiple hills to climb it doesn't mean that you have to reach the very top. Because that mountain top and those hills are forever changing as your life changes. Your life values and goals do not have to remain the same, as you climb the smaller hills it unravels new hills that may take you on a different path to what you originally were climbing for. That's how we evolve as individuals whilst still meeting amazing people along the way.
My goal when I first began my beauty career back in 2006 was NOT to become an educator for an amazing global company that to this day I still pinch myself daily I am lucky enough to be involved with. But it was purely to do what I had an interest for which was beauty services.
I first started my Beauty career back in 2006 winning a scholarship that my older sister entered me into. And with this scholarship to the beauty college, I was able to complete my Diploma of Beauty therapy and gain a nationally recognized certification that I never thought would lead me down the path it did. I began working in Spa's and doing massage, facials, manicures and pedicures… Very quickly learning that this was not for me…… this was my first of many hills I would climb and that would take me on my journey to reach my own mountain top.
Next came working in a salon that solely focused on hair removal, this I enjoyed a little bit more I think because it was more face paced and I could talk to the clients who I performed the service on. Much more engaging for me…. This hill I climbed and I liked…. However, if I was truly honest, I really found myself only liking the interaction with client's part and the hair removal service part I did not necessarily dislike however I knew it wasn't for me long term.
Continuing to Climb up my own hills and mountain top I then reached a wholesaler/distributor which I spent several years working for, this allowed me to follow my new passion and drive to interact with beauty like minded professionals and engage and talk all things beauty everyday all day. It helped me to gain my own self confidence and provide product knowledge and skills; and learn how to interact with different beauty professionals from all ages and skill levels. This gave me such drive and passion. I created relationships with my customers that I valued wholeheartedly. They made me want to be better and do better. I wanted to help them succeed in their business and their dreams. During this time, I worked on weekends with my own select clients doing makeup, lashes and brows which kept my foot in the door but with services I enjoyed performing and in my own time.
Now to my current position as a Master Trainer for Elleebana Global, this honestly is ticking every single box for me. My passion and drive lie within this company. I have been an educator for Elleebana now for 3 years and the feeling of educating students never gets old. It is so rewarding to see eager students wanting to learn from you and trusting in your every word is the most gratifying experience I could ever experience. They are my motivation every single day I go into work.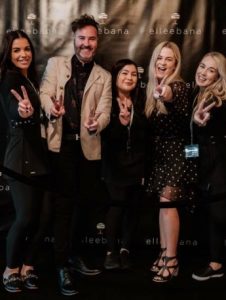 I have now been able to join my passion for lashes and brows with interacting/educating like minded professionals and also being able to progress myself professionally and personally. I have Elleebana and my students to thank every day for the feeling of pure satisfaction I get from educating.
No one really knows how far anyone can go but I really do feel like I have reached my very own special mountain top and it's with Elleebana.… I truly hope my mountain top stays within Elleebana and I continued to climb hills with Elleebana now and reach even bigger heights and keep progressing.
To start your own journey and climbing your hills is about taking those individual steps to creating your very own mountain top that allows you to grow and one day you say to yourself "I've reached the top". I am a bit advocate for being your own individual self and let yourself be open to new opportunities. Everyone has the ability to do what they want in life its just a matter of where the path leads you to get to your destination.
I would not be where I am today without every single person I have met along my journey and the constant support of my little growing family and Elleebana family always wanting to see me grow and succeed. My amazing family and supportive husband who is the most caring husband and dad to our beautiful daughter…. And soon to be little growing baby (son) who will be born mid may this year. I am so grateful to have all of these positive figures around me daily.
Keep following and climbing to your individual goals and you will reach your mountain top.