Our bright–eyed and bushy–tailed Managing Director, Head Formulator and Cosmetic Chemist for Elleebana global, ventured to Bangkok's "In Cosmetics" conferences last week and the inspiration is real.
Rows and rows of raw material suppliers, perfume houses and formulation labs might not be your jam, but for Otto and Elleebana's General Manager, Zoe Mitter it's an overload to the brain for opportunities, product options, and avenues chances to revise and assess the future for product developments.
Releasing a new product shouldn't be as easy as finding a private label company and sticking your logo on it – but it is for so many of the brands in the market today. To have a truly successful brand with ranges that are relevant and results-driven needs research and that's what we do.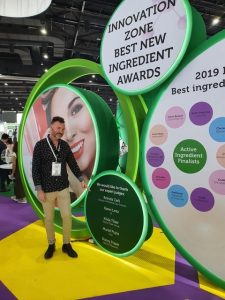 Relationships with our raw material suppliers are forged and knowledge of the sustainability factors and lab testing results of each of the chosen ingredients is what goes into Elleebana's product developments. It's interesting to note that every raw material supplier provides lab test diagrams and imagery but when questioned deeper, many will advise – you will need to perform your own product trials for efficacy.
What that means is they can stand behind their raw material but once you combine that material into a formulation the product testing is dependent on your own findings.
Which again is one of the number one reasons why Elleebana doesn't rush our product releases. The full due diligence, testing, and trials take time. The innovator's zone was a mecca of new raw materials and a haven for finding what you were looking for amongst the bustle of a traditional show setting.
Ingredient awards are allocated and judged by the industry's finest – Otto's own Cosmetic Chemistry Teacher was the head guest judge, so we had a slight fanboy moment on our hands but rightly so. This event was world-class for not only the raw materials but for education also.
Education sessions, speakers and the formulators lab sessions were busy for the most part but so well valued and purposeful leaving Otto and Zoe inspired and full of ideas that need direction and fruition. So what's next…

"This article has been written by Zoe Mitter and produced for Ex-Import Niche Products.  Modification, misuse, copying or reproduction of this content in any manner without written permission from Ex-Import Niche Products is prohibited and Copyright laws will apply. 
Sharing the link and giving credit to Ex-Import Niche Products for the content is allowed".