Do you perform lash lifts in your salon but find it difficult to achieve consistent results from client to client? You're not alone. It's safe to say that performing a lash lift is not as easy as meets the eye! Equipping yourself with the right skills, experience and tools of the trade are key to delivering exceptional results every time
When wanting to learn how to farewell underwhelming lash lifts once and for all, there was no better person to chat to than Elleebana Managing Director, Otto Mitter. Celebrating 25 years of Elleebana, Otto is a cosmetic chemist, brow and lash educator and expert formulator. His passion for quality formulations and standout education has Elleebana take the lash world by storm and now feature in 60 countries across the globe.
Today, Otto shares his must-know steps for overcoming an underwhelming lash lift and how through considered and precise treatments, you can watch not just your salon productivity soar but profits too.
It all comes down to expectations
Otto explains that the number one approach lash lifters must take when treating any client is one built on realistic expectations. Any treatment performed in a salon will have varying results based on each individual client and a lash lift is no different.
The likes of hair texture, the client's hair growth cycle, lash structure and their expectations when first making the booking all play a significant role in their final result.
So, how does Otto suggest lash lifters set clear and realistic expectations with their clients? Through consultation. During the consultation process, take the opportunity to assess your client's lash health and structure to begin crafting those expectations. This is also where you will confirm their suitability for lash lifting and begin to understand the processing times required later during the treatment.
As many of you will be welcoming back clients that have missed months of treatments, don't be surprised if the condition of their lashes has changed due to at-home treatments and products. Let's be honest, we can all vouch for getting desperate at some stage during the past 18 months so be sure not to skip over this during the consultation, even for those long-term clients of yours.
A technique that we can seriously get around is the idea of including a portfolio in your consultation. Otto shares that by being able to showcase previous client results, of all lash types and lengths, you can visually demonstrate what the client can expect for their individual lash type.
Instead of relying on Instagram inspiration pictures the client has shared with you, a portfolio can match them with a lash like their own and the kind of results they can expect. That way, when it's time to get down to business, they've already got a visual in their mind of what's waiting for them post-treatment.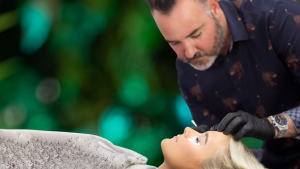 Let's talk application
It's no secret that a large proportion of your lash lifting results come down to technician application. This begins with the application of your shield or rod and minimising the gaps on the eyeline.
Otto explains that technicians need the attachment of the shield or rod to occur at the base to avoid running the risk of seeing bends or kinks in the lash and the treatment lotion encountering the skin. If the shield is leaning too much towards an outer corner of the eye, you'll find more gaps will be present and that direct lift will not occur.
Once you've secured the placement of your shield or rod, it's now time to ensure all lashes have been brought to the front to receive treatment. Otto shares that a driver behind underwhelming lash lifts is not bringing all lash lengths into the treatment area, therefore some lashes not getting lifted at all. The rise of lash growth serums has seen lashes grow at different heights and areas that often get missed by technicians during the lash lifting process so it's important to take your time during this step to ensure you're covering all bases.
On the topic of taking your time, Otto attributes the often-unavoidable hustle and bustle of salon life to underwhelming lash lifts. When technicians are rushing thanks to back-to-back treatments, they run the risk of missing essential treatment steps or not following meticulous application techniques. Whilst we've all experienced the reality of a busy salon, the only way to overcome this is to slow down, take a breath and focus on the client in front of you.
With the goal of your lash lift being symmetrical placement, work in smaller sections to effectively isolate the treatment areas and check-in with yourself to ensure you're happy with your work thus far. Taking that extra time during the treatment itself will undoubtedly save you time later on with a client that is feeling underwhelmed by their experience.
Is your lotion placement leading to underwhelming results?
When it comes to the placement of your lash lifting lotion, every brand has its own recommendations and techniques. Otto reveals that lotion applied too sparingly or in the wrong areas can be a key contributor to an underwhelming lift.
Elleebana's lotion placement technique is to apply three-quarters of the way up the lash if using the original lash lift system, however if using the Profusion system you bring the lotions all the way up to the tips of the lashes. Otto explains this is because if the lotion is applied just at the base of the lash or even up to the halfway point, you haven't covered enough of the surface area to achieve that dramatic, visibly lifted result. This lotion placement is particularly important to note if it's your clients with strongly textured lashes that are receiving the underwhelming results – there may not be enough lotion coverage to activate the lifting in these strong lashes.
The Elleebana technique can be applied for both lash lifts using a shield or a rod, but Otto does encourage technicians to take note that rods will deliver more of a curve to the lift where a shield offers a flatter surface to achieve the lash lifting height.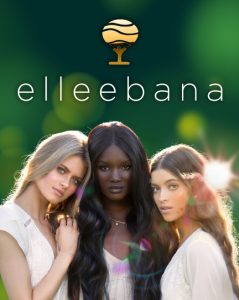 Tweaking your processing time
Underwhelming lash lifts can be thanks to a lack of processing time during your treatment. Even if your lotion placement is on point, if the lash hasn't been given sufficient time to process, you may not achieve the ideal outcomes.
Generally, the stronger the density of the lash hair, the more processing time required. During your consultation process, you should have already gained a sense of the type of lash you're working with but factors such as client ethnicity will also determine your processing time.
Otto explains that clients of Greek, Italian and Middle Eastern heritage traditionally have much stronger lashes that require those longer processing times to achieve dramatic results where those with finer lashes will require less.
With Elleebana guidelines ranging from three to ten minutes based on lash density, technicians should not be afraid to tweak and adjust their processing times for each individual client to avoid underwhelming results.
If you feel as if you're nailing all of Otto's treatment steps but still finding your lash lifts are underwhelming your clients, Otto's team at Elleebana HQ are always there to dig deeper to find out what adjustments you might need to optimise your results.
Like any brand you welcome into your business, you need to feel supported and confident in their formulations. Pairing unparalleled research and development with award-winning training and salon support, it's no wonder that Elleebana can now be found in over 60 countries worldwide! If you're ready to make your lash lifts stand out from your competitors, connect with the Elleebana team today to learn more.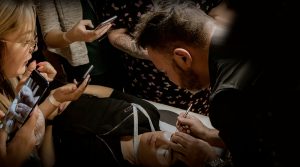 Otto is a qualified Cosmetic Chemist, Make Up Artist, and multi award winning educator and assessor in the Beauty Industry and multi certified eyelash extensions educator, competition judge, Lash Masters Alumni and Managing Director of Ex-Import Pty Ltd.