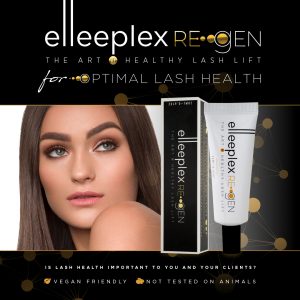 The demand for offering Lash Lift services worldwide has grown significantly due to the overwhelming popularity using the Elleebana system. As technology and hair science evolves, the production team at Elleebana HQ have been busy in the laboratory working with the latest materials and ingredients available in the hair and beauty industry to deliver our clients this new advancement in lash science and lash health.
 Introducing Re-GEN – The plant based alternative to Keratin Treatments!
⠀Re-GEN is a Vegan, Cruelty Free, Plant Based Lash Protection System, essential for building strength in eyelashes during the lash lift treatment process. ⠀
⠀This innovative protection system is a cohesive solution packed with soy amino acids and additional pure amino acids, which are carefully selected to mimic the functional ratios in commercial human hair amino acids
⠀This luxurious product is applied after your setting solution is removed and can be left on the lashes for up to 5mins for optimal lash health and that boost of moisture and hydration your lashes deserve.