As the beauty industry faces more challenging times with lockdowns and continued uncertainty it has never been more important to champion the best in the business around the country. Launched in 2012 by esteemed trade visionaries Mocha Group, the Australian Beauty Industry Awards (ABIA's), combined with the Australian Make-up Artist Awards (AMIA's), are the trusted national award platforms which provide a benchmark of excellence across both specialist and individual categories across beauty, aesthetics and make-up expertise.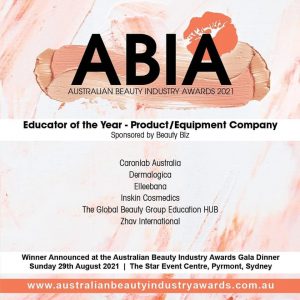 Winners are due to be announced on 29th August at The Star, Sydney at the hotly anticipated gala awards event which will be a welcomed chance to celebrate. After steady awards growth year on year, 2021 entries were up by a phenomenal 30% with many categories receiving record numbers. This year also sees the addition of the Sole Operator of the Year and Educator of the Year- Product/Equipment Company categories to reflect the current market.
Mocha's Owner/Publisher Linda Woodhead understands the pressure these creative entrepreneurs are facing and believes it's time to shine a bright light on these stand-outs;
"Both the beauty and make-up artist industries are incredibly resilient and made up of some of the most hard-working individuals and teams you could ever meet. We hope that their local communities will support them through these difficult times and acknowledge the work that has gone in to seeing them recognised as Australia's best on a global scale."
The awards were sponsored by some of the biggest brands including Dermalogica, FACEBYR, Inskin Cosmedics, DermapenWorld, Dermaviduals, Dermaplaning Australia, Shortcuts, Beauty Biz, Salon Lane, Biodroga, Kitomba, Prologic, ReflectoCil, Naked Tan, Exceed Microneedling, Gary Wardle Education, The Zing Project, Private Label Dynamics, Sustainable Salons, Professional Beauty Solutions, Elleebana, Comfortel and The Global Beauty Group. Finalists were judged by a comprehensive list of over 30 local and international make-up artists, stylists, business, media and industry expert judges across the two award platforms included Rae Morris, Becca Gilmartin, Charles Marcus, Alexandra Bilisi, Faye Murray, Julie Cross, Clare Lamberth and Narelle Lancaster.
Tickets for the gala awards night are now on sale at www.mochapublishing.com.au/shop