The 2023 Skin Games were a hit! If you have been following Elleebana for a while, you will know that we're big fans of competitions – they provide a perfect opportunity to hone in on your skills, build confidence, and network with like-minded professionals. And, of course, winning awards is a fantastic way to promote your business and showcase your talents.
This year, we were thrilled to be invited to the Atlanta Skin Games, with our founder and director, Otto Mitter and Master Educator, Kileigh serving as judges. Two of our USA trainers also competed, with Taylor Stewart taking third place in the Lash Lift category and Reid Ryan claiming first prize in both Lash Lift and Brow Lamination. We caught up with these talented artists' to learn more about their experience and to encourage other artists to take part in competitions.
Taylor Stewart – Elleebana Educator Tennessee 
Tell me about your experience this year in the 2023 Skin Games?
I had a really great experience participating in the 2023 Skin Games. I really enjoyed preparing myself to compete, because it really helped me level up my work on my regular clients. I loved the trade show and community of professionals that were there, and most of all, loved to see all the lash lift competitors. It was a little nerve-wracking, to be honest, because I was nervous and I hadn't been able to practice on my model's lashes before the competition. While I am usually pretty quick, it took me all of 90 minutes to do the lash lift, which I didn't expect. I had a lot of fun overall, and would definitely do it again!
What products did you use during your lash lift competition?
I brought Elleeplex Profusion with me to compete, and of course, I am so happy I did. I know that my results with Elleebana will be reliable, I am confident the lashes will not over-process, and I am very comfortable using the product. I definitely want to use something I know will deliver an incredible lash lift, and part of that is that the lashes look healthy AND lifted perfectly, so Profusion felt like the perfect choice!!
What advice would you have for artists that may be considering entering a competition?
Just do it! Do it even though you're nervous, or if you think you won't win, or whatever reason you may have! Just DO IT! It's such a great experience, and at the end of the day, you will be a better artist because of it. I know my experience competing has made me a better overall artist.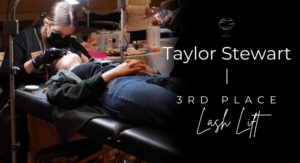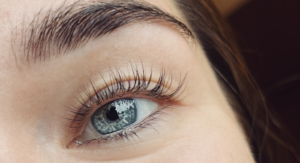 Reid Ryan – Master Educator California & Nevada 
Tell me about your experience this year in the 2023 Skin Games?
I have been to a lot of industry events over the years.  Conferences, product expos, launch parties, education forums, and yes, competitions…. but up until this year, I have never been involved in the actual competition.  It is quite intimidating!  Performing demos has never bothered me, but the idea of having someone judge you for your technique and result… It was a huge fear for me!  So I would have to say that my experience this year at the 2023 Skin Games was absolutely unforgettable. There are so many different aspects of the experience- The preparation, the competition itself, the classes and demos, not to mention, meeting the players that have travelled from all over to be there… and then the awards show.  It's unlike anything I have ever attended, that's for certain!
What products did you use during your lash lift competition?
I live, eat, and breathe Elleeplex Profusion.  I think even if a lash artist has another product that is their go to, it's a smart move to pack Profusion in their kit for the same reason I use it exclusively in my salon- it has such a forgiving nature while providing stellar results.  Especially in my position- I had originally set up to bring a model with me to the skin games, but she decided not to come a few weeks before the competition.  My dear friend Tay was kind enough to help me find a model, and I had never worked on her lashes or brows. This in mind, Profusion was the way to go.  I knew that I could allow for a longer processing time, if necessary, without over processing my model's lashes or brows, as I can always count on it for beautiful results with any and every first-time client.  Plus, it can be used for both brow and lash lamination, and with Regen 2.0, the integrity of the hair is always left better than when I found it, so glossy and perfect!
What advice would you have for artists that may be considering entering a competition?
I think my advice to any artist who may be considering competing would be to treat every service like you are at competition! The 3 months prior to Skin Games, I made it a point to spend an extra 15 minutes on every service I had.  I treated every wrap like it was a case study, took before, during, and after photos for every service.  I looked at my work every night, and reviewed what the judging criteria was going to be looking for.  That way, I had a game plan for what I could do better for the next client.
Entering competitions is the ultimate way to push your artistry to the next level!  I highly encourage and recommend all artists to enter any and all competitions possible, the feedback you receive from your judges, the opportunities to view other artistry that isn't on a social media platform…. it's just such a game changing experience!