We are so honoured to announce that Elleebana has been nominated for LASH BRAND OF THE YEAR 2019 at the Artistic Fur Awards.  Just as exciting is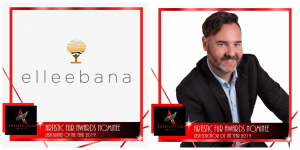 that our very own Otto Mitter has also earned himself a nomination for LASH EDUCATOR OF THE YEAR 2019.
The UK's Artistic Fur Awards was created to bring the Lash & Brow community together to celebrate amazing talent and skills and this is a huge honour for the entire Elleebana family worldwide!  Thank you to Artistic Fur for the nominations and good luck to nominees in all 7 online categories.  Voting opens 7th August.   Find out more about the category nominees and get all the latest Artistic Lash League 2019 news in the lead up to the awards HERE.