Elleebana founder Otto Mitter takes time to share the latest product range with SalonEVO. The demand for a lash lift and brow lamination system in one that offered convenience to the therapist prompted a two-year project that has seen thousands of clinical trials take place leading the brand to proudly announced the launch of the next generation of lash and brow lamination – Elleeplex Profusion. Otto said: "This system was created because there is a lot of lash lifting systems in the world which use thioglycolate as one of their active ingredients in the perming agents. Elleeplex Profusion utilizes a cysteamime HCL active and contains no thioglycolate which allows for gentle and effective lash lift / lamination results which minimizes the chance of over processing and keeps lashes healthy, maintaining the bond integrity of the lash.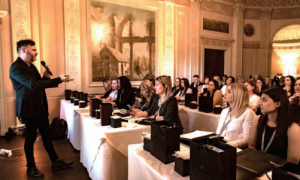 "It incorporates the Re-Gen – Next-Gen system which helps boost hydration and strength in the lashes to achieve optimal results and lash health. It contains amino acids and peptides which are infused into the lashes and the hair while the cuticle scales are open during the lamination process. It gives that extra boost of strength and nourishment to the hairs, leaving them in much better condition. It's a really important part of the service. "It's also very forgiving on hair, so it really minimizes the chances of having problems with over-processing or drying out lashes and brows too much. It's more of a foolproof system, which is very helpful for the therapist. "Our original system, which is incredibly popular, the Elleebana Lash Lift system, is very fast with its processing times and is very effective. However, there's not much room for error. When you're a stylist, you need to be very precise with your timing and your application methods. When you're using the traditional Elleebana system and you are using it correctly, you will get great results. "If you make a slight mistake with the application, then that could cause challenges that you want to avoid. Elleeplex Profusion just takes all of those challenges away, it does take slightly longer to apply the system, but therapists can weigh up the time they would use applying it against how easy it is to use. "It is suitable for brow lamination, allowing you to straighten brow hairs with confidence for clients that have unruly or downward growing eyebrow hair." In saying that, you can save time on brow lamination. Otto explains: "When using Profusion on eyebrows, for brow lamination, it's very fast compared to other brands on the market. It is six minutes for step one and six minutes for step two. It's cost effective from a time point of view. In general, when performing a lash lift or lash lamination service, you would still be completing it within one hour."
Let's talk brow color. "Yes, the other beautiful thing about the Profusion range is that it is a synergistic system that incorporates the lash and brow colors as well. There are eight color shades in the range, which can be used for lashes, or brows. The darker colors are more suited to the lashes, whereas all the other colors in the range are more suited to brows, the deep brown, light brown and honey brown. It gives the therapist the opportunity to customize the color palette to suits a lot of different hair types." Education is at the forefront of the Elleebana ethos, and a new global online training program has just been launched. Otto continues: "The program has more than 50 breakout units in the course curriculum, so it is very comprehensive, and it covers everything from the cosmetic chemistry side of things, learning the functions of the formulas and how ingredients work and behave on eyelashes and hair. "It also comprehensively covers all the application steps, how to master those steps, and it then covers advanced techniques. It also covers health and safety, sanitation, and product knowledge, and then it goes into things such as marketing. "Marketing is important, it helps the therapist understand how to explain the products and the service to clients, and how to cost it effectively. "And then we also have modules that cover how to win lash lifting competitions. Over the years I have been a judge in lots of competitions around the world for eyelash extensions, lash lifting etc. So, I've put together a special session within the curriculum that breaks into that, explaining what the judges are looking for in competitions. "The education is designed to be completed at a self[1]pace but Elleebana does offer face to face video call with their educators as part of the curriculum too. "That gives the opportunity to go through the course at your leisure, but then there is a mandatory FaceTime session with the trainer. And, of course, you can have more sessions if you need. But we really want to encourage that question and answer session with the trainer to go through the demonstration videos and techniques together. "That extra level of support is so important when you're doing online learning. Obviously, online learning is such an important part of how we learn during the current global climate and being able to have the trainer spend time with you face to face is very beneficial." Back in the midst of time, when we vaguely remember life pre-pandemic, face to face education was the norm, and in Australia, where Elleebana is based, face-to-face classes have restarted. "It's starting to happen again in Europe as well now. A lot of our educators are already offering hands-on, face-to-face classes, and that is always a fantastic way of learning, and our preferred way of learning if possible. The online option does give you a lot of extra content that you don't necessarily always get in that hands-on class, because we cover so many extra units, but it does give you the opportunity to learn at your leisure. So, there are options for everyone." The benefits of aftercare products is a must for business owners and salon clients alike, Elleebana have a carefully curated range of aftercare products to cater for optimal lash health and integrity. Otto explains: "Using aftercare products is extremely beneficial for keeping lashes and brows hydrated after a chemical service, and the best way to do it is by applying it every day. That's when you really see a difference, because hair naturally changes when it has to contend with the elements, by being washed etc, as it can change the surface of the hair. Aftercare basically gives better results for longer, and you don't get that unruly grow out with the lashes." In conclusion Otto talks about how the Elleeplex Profusion range should be noted for its ease of use when therapists have had the proper training. There is minimal issues or problems with clients afterwards, which is beneficial, and the popularity of the system really speaks for itself. Now you can get six to eight weeks out of the treatment, which is incredible and one of the many reasons it is so popular with guests and around there world today.