April Burch; an Elleebana trainer and licenced Esthetician, has achieved tremendous success with her luxury beauty bar business, Skincare Solutions, which has nearly 1000 five-star ratings. Her exquisite microblading treatments and eyelash extensions have been demanded by the Who's Who of the BET Awards, singers, actresses, and celebrity bloggers for the previous 7 years. April joined our incredible team in 2018, becoming a qualified trainer in Elleebana Lash Lift, Elleeplex Lash Lamination, and Elleeplex Brow Lamination. We wanted to honour her accomplishments and reflect on her journey with Elleebana as a result of her dedication. Here's her story:
"I heard about Elleebana years ago, through a former Elleebana trainer who posted incredible brow transformations on Instagram. One thing led to another and we became very well acquainted. I was so inspired by her work that I signed up for her Online Elleebana One Shot Lash Lift Course. I loved everything about the online training and learnt so much! The information was very well organised, easy to understand and very educational. The professional videos in the course helped me a lot, as I am a visual learner. As soon as I completed the course and became certified, I fell in love with Elleebana products and knew immediately that I wanted to continue with the brand and become an Elleebana educator.
My favourite thing about Elleebana is their commitment to mentoring and helping businesses like mine grow. The quality of Elleebana products is unmatched as they only use high quality ingredients and are forever evolving and improving their formulas. Not to mention, the labelling and packaging is very professional, trendy and chic! I have been achieving consistent results for years using Elleebana products and my clients are always happy with their treatments. Being educated through Elleebana, means that I use Elleebana products and techniques on all my clients, which leaves them with the ULTIMATE WOW experience.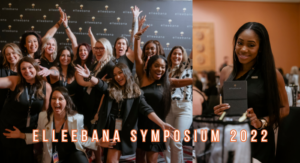 Based in North Carolina, I've enjoyed being a part of the incredible Elleebana community and having the opportunity to educate so many talented students. Whether it's online or face-to-face, I can see the passion and excitement my students share during my lash and brow courses. It is so exciting to witness their journey from their first model in class, to seeing their amazing lash and brow transformations in their case studies. It is a very rewarding job and I am excited to see what my future will hold with Elleebana."